dōTERRA Tea Tree Touch
Feel the cooling, refreshing effects of doTERRA Tea Tree Touch. Packaged in a convenient and smooth roll-on applicator, Tea Tree Touch delivers the purifying benefits of Tea Tree essential oil diluted in Fractionated Coconut Oil. Tea Tree Touch can be used to cleanse and purify the skin and nails and to promote a healthy complexion. It's ideal to soothe occasional skin irritations and to use after shaving or on the bottoms of feet for a cooling effect.
Primary Benefits
Cleanses and purifies the skin and nails.
Soothes occasional skin irritations.
Promotes a healthy complexion.
Uses
Apply to skin imperfections for a cleansing, rejuvenating effect.
Use on occasional skin irritations by rubbing Tea Tree Touch onto affected area.
Apply after shaving to soothe and cool skin.
Rub on fingernails and toenails after showering to purify and keep nails looking healthy.
Roll on bottoms of feet and inside shoes for a fresh aroma and feeling.
Northern Escape® Oil
It makes you feel alive. The rush of everyday life is forgotten as you breathe in the fragrant forest and fresh green aroma of doTERRA Northern Escape. A proprietary blend of Black Spruce, Siberian Fir, Balsam Fir, Lavandin, Cedarwood, Cypress, Hinoki, Frankincense, Nootka, Cananga, and Clove essential oils, the harmony of scents in doTERRA Northern Escape is incomparable. Diffusing this aroma creates familiar and beautiful outdoor ambiance reminiscent of a world where time doesn't matter. Emerging science suggests the aroma of Lavandin is relaxing, while the aromas of Siberian Fir and Hinoki may be stimulating.
Primary Benefits
Has a grounding, yet inspiring aroma.
Refreshes your home or office throughout the day.
Creates a tranquil, positive space.
Uses
Diffuse to create a fresh and uplifting environment.
Blend with Fractionated Coconut Oil to enhance a soothing massage.
Add to personal cleansing or surface cleaner.

New members who sign up with at least 150 PV will receive a free Pebble Diffuser. 
Refer your friends and share this opportunity. Small yet powerful and versatile, the Pebble is a great diffuser for any experience level.
Limited-Time Offer! Harvest Spice®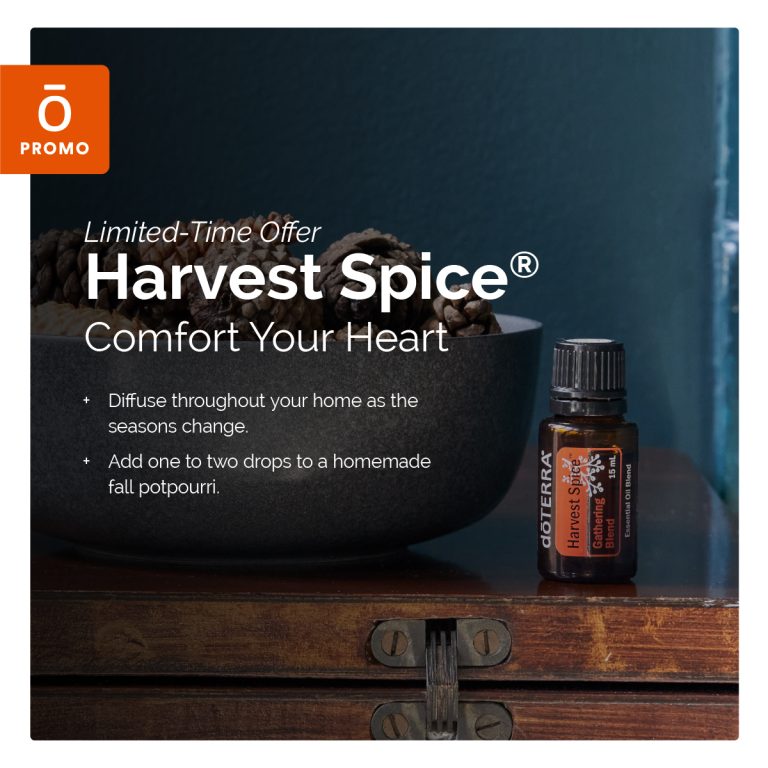 Fall in a Bottle
Celebrate wonderful memories with family and friends, enjoying the rich, uplifting aroma of Harvest Spice as you do. Freshen the air and welcome autumn with the comforting ambiance of CPTG Certified Pure Tested Grade® Cassia, Clove, Eucalyptus, Cedarwood, Nutmeg, and Cinnamon Bark essential oils.

Primary Benefits
Creates a welcoming environment reminiscent of homey comfort.
Fills the home with an uplifting fall aroma.

Uses
Diffuse throughout the home.
Add to a homemade fall potpourri.
Aroma Essentials Collection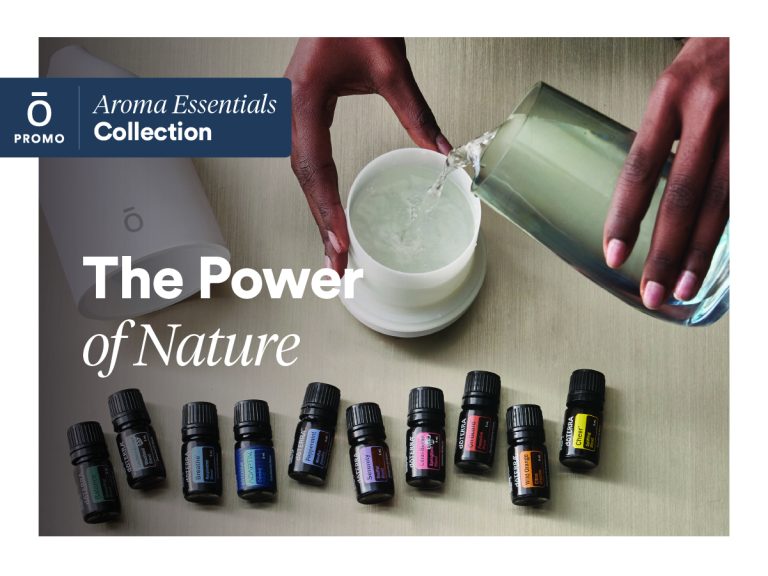 For those looking for simple ways to eliminate toxins in their home, aromatic products are easy starting points. But saying goodbye to synthetic fragrances from candles, air fresheners, and other artificial products doesn't mean you have to give up the wonderful aromas you love so much. That's why we created the Aroma Essentials Collection, which comes with the best essential oils to help you freshen your air and keep your family safe from harmful toxins.
This collection includes doTERRA powerhouse products to help you freshen the air in your home, while also providing refreshing, invigorating, and lovely aromas. With the Aroma Essentials Collection, you can create a fresh, clean environment that smells incredible—straight from nature.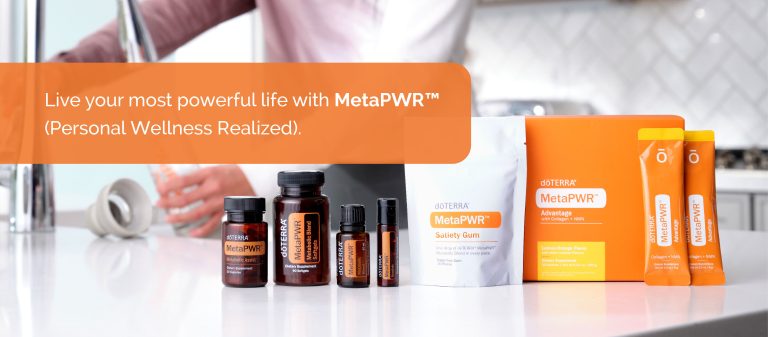 The MetaPWR system helps you live your most powerful life, supporting your metabolism, energy, and health on a cellular level.* Designed to be used in a system, each MetaPWR product offers a specialty, while also supporting and enhancing the benefits of the other products.
The MetaPWR System includes the following:
MetaPWR Metabolic Blend
MetaPWR Metabolic Blend Softgels
MetaPWR Metabolic Blend Beadlets
MetaPWR Metabolic Blend Satiety Gum
MetaPWR Metabolic Assist
MetaPWR Advantage with Collagen + NMN
For a limited time, this kit qualifies as an enrollment kit and will also include one year of doTERRA Wholesale membership for new doTERRA customers!
Natural Support—200 PV Promotion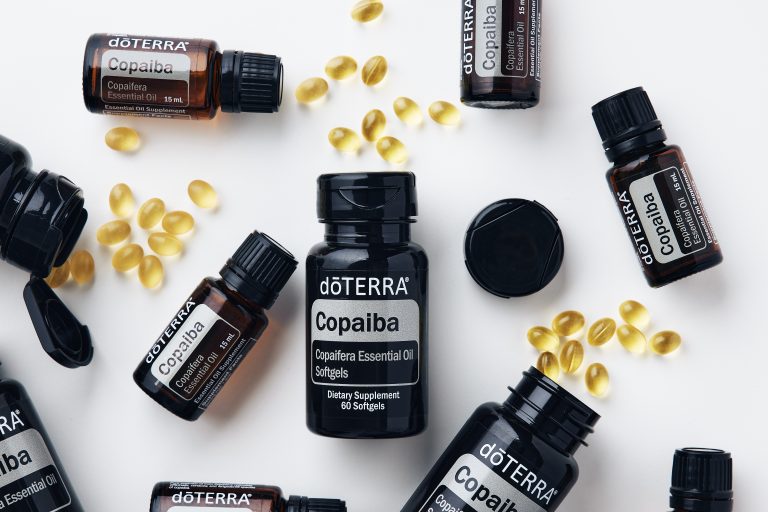 When it comes to discomfort, it's best to have natural support. After everything you do to take care of your health and reduce toxicity, you don't want to turn to a synthetic solution. That's where Copaiba essential oil and Copaiba Softgels can make a difference. Earn both with a 200 PV order this May—available while supplies last.
Copaiba 15 mL
Supports the health of the cardiovascular, immune, and digestive systems when taken internally.*
Provides powerful antioxidant properties when used internally.*
Helps calm, soothe, and support the nervous system when taken internally.*
Promotes clear, smooth skin and reduces the appearance of blemishes.

Copaiba Softgels
Provides the internal benefits of Copaiba in a convenient, easy-to-swallow softgel.*
Supports the cardiovascular and digestive systems.*
Provides powerful antioxidants.*
soothes and supports the nervous system.*

This month, you can receive Copaiba 15 mL and Copaiba Softgels (60 count) for free with any 200 PV order!