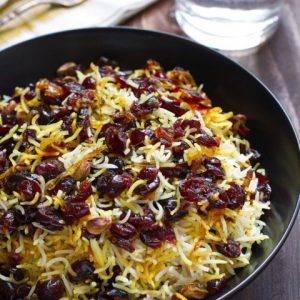 Persian Cranberry Rice
Fragrant, slightly sweet, and delicious, Persian cranberry rice pilaf. This rice pilaf is perfect to serve as a side for Thanksgiving. It's studded with dried cranberries and pistachio and super fragrant from sweet saffron. This saffron rice will be a hit all around!
Ingredients
2

cups

Basmati rice 

2

Tbsp

butter or ghee

4

pieces

shallots 

1

pieces

medium yellow onion

3

Colves

3 cloves garlic 

1/2

Tbsp

ground turmeric

2

Tbsp

sumac powder

1/2

Tbsp

salt

1 ½

cups

dried cranberries

3

Tbsp

Agave (1/4 C granulated sugar)

1/4

Tbsp

saffron – soaked in 2 tablespoons hot water for at least 10 minutes

1

Tbsp

olive oil
Instructions
Wash rice thoroughly in several changes of water, and soak for at least 30 minutes.  Water should run close to clear when Basmati is fully rinsed.  

Chop shallots and onion. Mince garlic.  

Heat butter (or ghee) over medium heat in a large skillet. Add shallots, onions and garlic – sauté until clear and soft, about 4 min.  

Mix dry spices: ground turmeric, sumac powder and salt.  Add to skillet and mix.  Mix agave (or sugar) with 4 Tbsp water and add mixture to skillet.  Add cranberries and allow to simmer for two min. Cover and continue to simmer over medium heat until cranberries have soaked up all the liquid. Turn off heat and set aside.  
Rice
Bring enough water to cover the rice to boil (do not add rice until boiling).  Add the rice and reduce heat to medium.  Simmer for 6 minutes, until rice is soft, but firm. Drain the rice and rinse under cold water to stop cooking, drain again.  

Pour olive oil into the base of the pot and add drained rice. Holding back dry saffron, pour the saffron water evenly over the rice. Top with the onion/cranberry mixture and cover.  Turn heat on to high for 4 minutes, then reduce heat to lowest setting for 10 minutes.

Remove from heat, mix, add additional salt to taste. 
Notes
Serve warm – presentation heaped on a large platter is recommended.  Garnish top with cranberries.  Optional – top with ½ cup salted pistachios