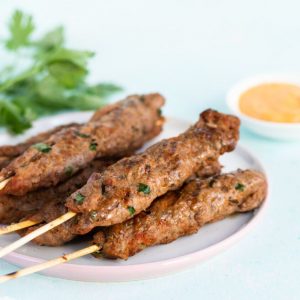 Moroccan Kefta Kabob
A welcome sight in the souks around Marrakesh, these small, simple kefta are a quick way to enjoy spicy grilled flavor. Can be served as-is, with some spices and tomato sauce drizzled on top, or in a sandwich.
Ingredients
1

pound

ground beef (or lamb, or a combination of the two)

1

Pieces

medium onion, chopped very fine or grated

2

teaspoon

paprika

2

teaspoon

minced garlic

1

Tablespoon

cumin

1

teaspoon

salt

1

teaspoon

black pepper

1

teaspoon

cayenne pepper

1/4

cup

chopped fresh parsley

1/4

cup

chopped fresh cilantro

1/4

cup

chopped mint leaves (especially excellent with lamb)

3

Tablespoon

olive oil

3-5

drops

lemon essential oil

1-2

drops

turmeric essential oil

1-2

drops

coriander essential oil

1

drop

cilantro essential oil

1

drop

black pepper essential oil
Instructions
Chop onion - fine but not minced

Mix dry and fresh spices in separate bowl

Mix essential oils into olive oil in small glass or stainless steel bowl, whisk together

In a large mixing bowl: mix all ingredients (I use my hands with food grade gloves on – gloves optional).  Start with meat and mix in this order: olive oil and essential oil mixture, dry and fresh spices, chopped onion.  At each addition, mix the ground meat so that the spice, onion, etc is fully mixed through before adding the next. Optional – refrigerate for 1 hour (up to 24 hours) to let spices steep or prepare ahead.

Take small amounts of kefta and shape into cylinders / sausage shapes, squeezing to mold onto skewer or into small oval balls or form around kabob skewers

For meatball shapes: In skillet, start on med-high heat to sear each side.  Use tongs to turn.  Reduce heat to med and cook 8-10 min. Do not allow to dry – they cook quickly.

Note for skewers. Soak bamboo skewers; the meat mixture does not form easily to steel skewers.  Form meat mixture around skewers (do not try to form and then skewer, just form oval shapes around a bamboo skewer).  Sear on each side, turning with a spatula and tongs.  Cook on the upper rack if you have one or lower the heat for 8 min.  They cook quickly, don't allow them to dry.
Notes
Serve immediately or store and re-heat. They re-heat very nicely. Set kebabs on the same platter as Persian Rice, over the rice.