Keto Meatballs Essential Oils Italian Seasoning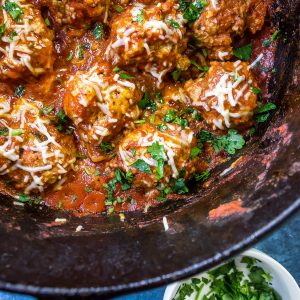 Keto Meatballs Essential Oils Italian Seasoning
Whether you prefer your meatballs baked or fried, my low carb meatballs recipe produces the best Italian meatballs which are tender just like mom's. Gluten-free and great for keto diets, too.
#glutenfree #paleo #keto #makeahead #mealprep
Equipment
Over bed of zucchini noodles, add meatballs and sauce. Top with sprinkle of grated cheese (parmesan, mozzarella or both).
Ingredients
2

lbs

ground beef or ground beef and pork mix

1/2

shredded

mozzarella cheese

1/2

cup

grated parmesan

1

egg

beaten

2

garlic

cloves, minced

1/4

cup

fresh parsley or 1 tsp dried parsley

1/4

cup

fresh basil or 1 tsp dried basil

1

tbsp

fresh minced oregano or 1/2 tsp dried oregano

1

tbsp

fresh rosemary, finely minced, or 1/4 tsp driedrosemary

1

tbsp

fresh thyme or 1/4 tsp dried thyme

1/4

cup

60 ml / 2 fl oz olive oil

2

drops

each doTERRA essential oils: Basil, Oregano,Rosemary, Thyme & Lemon

fine sea salt

ground black pepper
Keto Marinara Sauce
2

28oz cans tomatoes

3

tbsp

tomato paste

½

onion

minced

1

bay

leaf
Instructions
Whisk olive oil, salt and pepper, and essentialoils together, set aside

With your hands, mix in a large mixing bowl theground meat, egg, mozzarella, parmesan, garlic and olive oil mixture.  Add herbs and combine until everything iswell mixed but don't crush the fresh herbs. 

 Form meatballs into 1 ½ inch balls and place onbaking sheet or large platter

 Heat a large skillet to medium with a drizzle ofolive oil to coat the pan.  Working inbatches, brown the meatballs on all sides for about 2 min.

 Place the meatballs into the slow cooker. 

 In small bowl combine tomatoes and paste andonion.  Slow stir the sauce in the slowcooker to cover the meatballs. 

 Cook for 3 to 4 hours until cooked through.

Stir in the Keto sauce to cover
Notes
Meatballs can be made ahead and formed until ready to cook.  The cooked meatballs also store & re-heat well.