Italian Herb Turkey Injection Marinade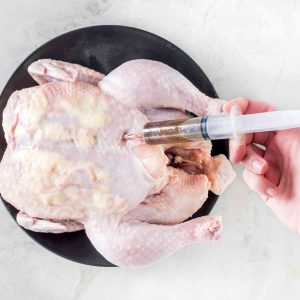 Italian Herb Turkey Injection Marinade
Instead of rubbing your turkey with butter, herbs, and spices, try injecting the flavor right into the meat. Injecting turkey is a method that flavors meat from the inside, tenderizing it while slowly spreading the flavors through the bird. Injection marinades can be used with traditional turkey marinades, turkey rubs, and even turkey brines.
Ingredients
3/4

cup

olive oil

¼.

Peach

Balsamic Vinegar

1

tbsp

Black Pepper

1

tbsp

Sea Salt

1

tbsp

dried basil

1

tbsp

1 tsp onion powder
Essential Oils:
3

drops

Lemon doTERRA essential oil

2

drops

2 drops Black Pepper doTERRA essential oil

5

drops

5 drops Basil doTERRA essential oil

2

drops

2 drops Majoram doTERRA essential oil
Instructions
Gather ingredients

In a small bowl (stainless steel or glass) combine allingredients and mix well

Inject the marinade into your thawed turkey.  Butter the inside or outside of turkey andbake the turkey as directed. 

Bake immediately or rest turkey, covered and refrigerated,up to 24 hours before baking

Optional: Use any remaining marinade as brushing or bastingsauce
Notes
the marinade will settle.  It needs to be stirred each time you refill the injector.