Autumn Fruit Salad in Recipes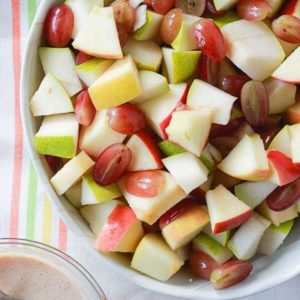 Autumn Fruit Salad in Recipes
Ingredients
2

medium

Bartlett pears (or other ripe but firm pears), diced

2

medium

apples (a fresh, crisp variety like honeycrisp, cripps, or pink lady is best), diced

1

cup

red grapes, halved

1/3

cup

Greek yogurt (can substitute your favorite plain or vanilla non-dairy yogurt – see notes)

2

teaspoons

freshly grated lemon zest (from 1 medium lemon)

1

tablespoon

fresh lemon juice (from the zested lemon)

2

tablespoons

pure maple syrup (can substitute honey)

1/2

teaspoon

pure vanilla extract

1/2

teaspoon

cinnamon

1/4

teaspoons

ground nutmeg

1/3

cup

pecans*, chopped
Instructions
Place pears, apples, and grapes in a large bowl. Toss gently to combine. Set aside.

To a small bowl, add the yogurt, lemon zest, lemon juice, maple syrup, vanilla, cinnamon, and nutmeg. Use a wire whisk to blend well.

Drizzle dressing over the fruit. Toss gently until fruit is coated. Scoop into bowls and sprinkle with pecans. Serve immediately.

*If you prefer to make this without the pecans, just leave them off – it's still plenty delicious without them.

Use your favorite non-dairy yogurt, either plain or vanilla. Depending on how sweet your non-dairy yogurt is, you may want to adjust the sweetener.

Follow the dairy-free option and choose pure maple syrup for the sweetener.

The salad tends to get a little watery if it sits for long, so I recommend keeping the dressing and the salad separate until right before serving. Also, if you cut your fruit far ahead of time, try tossing it with a little fresh lemon juice to help keep it from browning.